Browsing articles in "Artikel English"
KMs' factory activity in Margoyoso produces liquid and solid wastes. The possible alternative was to use the liquid effluent as biogas raw material. This study focuses on the used of urea, ruminant, yeast, microalgae, the treatment of gelled and ungelled feed for biogas production, pH control during biogas production using buffer Na2CO3, and feeding management in the semi- continuous process of biogas production that perform at ambient temperature for 30 days. Ruminant bacteria, yeast, urea, and microalgae was added 10% (v/v), 0.08% (w/v), 0.04% (w/v), 50% (v/v) of mixing solution volume, respectively. The pH of slurry was adjusted with range 6.8-7.2 and was measured daily and corrected when necessary with Na2CO3. The total biogas production was measured daily by the water displacement technique. Biogas production from the ungelling and gelling mixture of cassava starch effluent, yeast, ruminant bacteria, and urea were 726.43 ml/g total solid and 198 ml/g total solid. Biogas production from ungelling mixture without yeast was 58.6 ml/g total solid. Biogas production from ungelling mixture added by microalgae without yeast was 58.72 ml/g total solid and that with yeast was 189 ml/g total solid. Biogas production from ungelling mixture of cassava starch effluent, yeast, ruminant bacteria, and urea in semi-continuous process was 581.15 ml/g total solid. Adding of microalgae as nitrogen source did not give significant effect to biogas production. But adding of yeast as substrate activator was very helpful to accelerate biogas production. The biogas production increased after cassava starch effluent and yeast was added. Requirement of sodium carbonate (Na2CO3) to increase alkalinity or buffering capacity of fermenting
solution depends on pH-value.
Recently brewers had eyes for starch sugar as a technically and economically attractive raw material for beer, and many will switch to locally produced starch sugar.
Beet and cane sugar and molasses have traditionally been used as the preferred carbohydrate source in fermentation processes, because it is cheap and abundant available. This is still the case, but starchy crops are cultivated just as economically and feasible as cane and beet. Thus, High Fructose Syrup based on corn has in the United States demonstrated an explosive growth and largely supplanted cane sugar for industrial applications. To replace the traditional sugar and molasses as carbohydrate source in fermentation all needed is a starch and glucose front end to be added to the fermentation plant.
A starch front end enables the manufacturer to take advantage of starch crops as a cheap and reliable carbohydrate source.
Many products compete for molasses – biofuel in particular. Not only the sugar (sucrose), but also corn has recently become part of a biofuel economy. This may be the reason behind a new trend towards the use of cassava, which can be grown and harvested in the tropical belt round the year a big advantage.
Production based on carbohydrate fermentation will for this reason gradually migrate to tropical or subtropical areas with cheap sources of carbohydrates.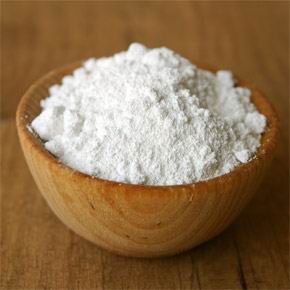 Starch is abundant. All major agricultural crops contain starch. Colder climates favour potato growing, the tropics cassava, while grain varieties are grown all over the world. With sun and water as the main limitations, fifteen tons of starch dry mater can be achieved per hectare.
Modern techniques enable starch to be extracted from agricultural crops with high yield and extreme purity, making starch the most versatile raw material used within the food and chemical industries. The starch granule is a compact package of pure glucose polymer.
The purity and efficient moisture absorbing properties of starch have made it indispensable in the production of medicinal tablets and as a moisture regulator.
Polymer releases from the granule during cooking. At 60 oC, the polymer begins to hydrate, adding its viscosity and gelling power to the water. This is the way puddings are made in the home – just by using native starch. The food industry also employs native starch as a binder and thickening agent in snacks, meat products, sausages, etc.
Although native starch does have its industrial uses, most often industry requires the functionality of modified starch. The modification is achieved in one of two ways – either by the starch producer, who modifies the starch without disrupting the granules, or by the end-user who cooks and modifies the starch in a single step operation. The first method results in a granular product good for storage and the other in a ready-to-use paste. The two methods do not always act as a substitute for the other.
The single largest consumer of modified starch is the paper industry.
Starches are used as wet-end additives, as size press starches, as binders in coatings and as adhesives. Cationic starches provide retention at the wet-end and reduce the amount of pollutants released. Oxidised starch is a good film-forming product – a favoured material for coating and surface sizing. Thin boiling starches produced by acid or enzyme treatment are used as well.
Special starch produced by esterification or combined treatments are used in coatings, glues, the production of cardboard, etc.
The Stein Hall process of manufacturing corrugated cardboard employs both cooked and uncooked starch. Cooked starch adds viscosity while uncooked starch swells up as the cardboard liner passes the heating rolls, giving instant bond. Pre-swollen starch is used alone in no-carrier adhesives.
The process of drilling for oil uses starch in the suspension of excavated mud. During this process, starch is either employed alone or in combination with other stabilisers, e.g. xanthan gum. Within the textile industry, thin boiling starch has made a comeback in the competition with petrochemicals.
The addition of chemical groups to the starch chain improves the clarity and stability of the gel during cooking, mixing and freezing. These chemicals include propylene oxide, acetic acid, and metaphosphates. They form tailor-made hydrocolloids, which go into desserts, ice cream, puddings, wine gums, etc.
Starch is the cheap and reliable source of energy for the biochemical manufacturing of alcohol, enzymes and fine chemicals. When broken down by enzymes or acids it becomes the basic ingredient for producing glucose, fructose and sorbitol.
Ethanol has powered automobiles for more than a century. Ford designed his model T for ethanol as a fuel. Gradually petroleum took over and became the dominating transport fuel. In the seventies Brazil adopted an ethanol strategy and today motor fuel grade ethanol (MFGE) is an extremely fast growing market worldwide.
Bioethanol is renewable, because it is made from glucose created in green plants by the sun, the so called photosynthesis:
(1) 6CO2 + 6H2O + sunshine ? C6H12O6 + 6O2
Sun energy transforms carbon dioxide (CO2) into glucose (C6H12O6). This glucose is transformed once again to ethanol (C2H6O) by classic yeast fermentation:
(2) C6H12O6 ? 2C2H6O + 2CO2 + heat
Heat is released calling for cooling of the fermentation vessels and heat is released again when the ethanol is burned in the combustion engine:
(3) C2H6O + 3O2 ? 2CO2 + 3H2O + heat Read more >>
Thailand has teamed up with neighbouring countries to develop ethanol from fresh cassava, aiming to turn the kingdom into a regional technology and production centre for cassava-based renewable fuel.
Under a programme called South-South Technology Transfer: Ethanol Production from Cassava, which is funded by the Global Environmental Facility (GIF), Thailand will be a focal point in forging cooperation with Vietnam, Laos, and Burma.
The four-year project, which will be launched next year, includes two pilot ethanol plants to be built in Thailand and Vietnam. The facilities could be developed for commercial-scale production in the next phase through a partnership with interested investors and banks. Read more >>
The Thai tapioca industry will focus on flour exports and Asian markets as part of its growth strategy over the next five years, when the exports of tapioca products could reach 100 billion baht.
The Commerce Ministry projected that by 2016, domestic demand for cassava roots in ethanol production will surge to 13 million tonnes, while exports could top 22.5 million tonnes, totalling 35.5 million tonnes, up 42% from the current production levels.
Speaking at the World Tapioca Conference 2011, Yanyong Phuangrach, the ministry's permanent secretary, said Thailand should focus more on exporting tapioca flour to substitute for a reduction in the export of tapioca chips and pellets.
The proportion of flour exports is expected to rise to 65% from 51% now, with chips and pellets making up the rest.
Mr Yanyong said the country should build a good image and accept the standards of its tapioca flour and other products to create confidence among importers, buyers and local consumers. Read more >>
Cassava prices continued to move up into the second half of 2011 although the movement is slower than last year. Data from the Ministry of Commerce noted in the consumer price of cassava has risen 1.13% in the first half of 2011, the average price in January Rp 2988 per kilogram (kg) to Rp 3022 per kg in June 2011.
Rhomy Irawan, Second Secretary Cassava Farmers Association of Indonesia (Aspesindo) said the current high price increases that occurred in cassava farmers. From an average price of fresh cassava maximum of Rp 600 to Rp 650 per kg to Rp 900 to Rp 1100 per kg, this price varies depending on the type of cassava and cassava garden access.
"The price of land has increased beyond our expectations, this might be because there is a rise in demand. But we still observe whether the increase is only temporary because there are speculators or will be stable," said Rhomy via telephone on Tuesday (5 / 7).
Cassava Indonesia Society Head I Suhayo Husen said the price increase is driven by high demand from both domestic industry and overseas. Husen said Indofood demand for semi-finished cassava processed into chips alone reached 200,000 tons to 300,000 tons per year, whereas to produce 1 kg of chips it takes about 3.5 kg of fresh cassava. Read more >>
TEACHERS and students of Bulileka Sanatan Primary School in Labasa got a shock when a seven-month-old cassava plant bore a 20 kilogram crop.
Students from the school uprooted the plant on Thursday.
Headteacher Narsamma Naidu said they were thrilled to see such a gigantic crop in their yard.
"This is a rare sight and we are really surprised that we have this big crop right here in our school garden," Ms Naidu said.
"I asked the garden teacher to dig up a cassava plant for our morning tea because we decided to have tea with cassava this morning," she said.
Ms Naidu said they would cook some for morning tea and the rest would be shared among the teachers who were interested.
She said the growth of the plant would have to be attributed to soil fertility given the creek that flowed nearby.
She said five students planted the crop in December.
Tanzanian farmers ought to stick to rising drought resistant crops in the event that they wish to enhance their harvests in view of world climate modifications that always lead to insufficient rainfall.The recommendation was given yesterday by the minister for Agriculture, Food Safety and Cooperatives, Professor Jumanne Maghembe, in Dar es Salaam to mark the Cassava Week.
Officiating on the launch of the exhibition held at Karimjee grounds, the minister mentioned cultivating drought resistant crops, comparable to cassava, would enable Tanzania overcome the perennial meals shortages.
"With the current world weather changes, which extra typically result in inadequate rainfall, cassava stands out as the suitable crop in most parts of the country. Improving production and productivity of the crop will, subsequently, guarantee meals security and earnings to native and international farmers and the nation," said Prof Maghembe. Read more >>
The International Institute of Tropical Agriculture (IITA) has stated that for the nation to spice up cassava production, it should pay extra attention than ever before to value addition.
The Director Common, IITA, Dr. Peter Hartmann, mentioned other than bettering farmers' incomes, value addition has the ability to address the increasing degree of unemployment in Nigeria.
He spoke at a stakeholders' forum in Ibadan, Oyo State, to mark the end of the CFC-funded Cassava Worth Chain Project in Nigeria carried out by IITA and its national partners.
Hartman, who was represented by a scientist with IITA, Dr. Gbassey Tarawali, mentioned the establishment of cassava processing centres in Masaka, Lafia, and Kuje for the production of garri, fufu, cassava flour and starch is producing constructive outcomes by providing new streams of incomes to the benefiting communities. Read more >>